Top Five Banners Types for Outdoor Advertising
Exterior banners are one of the simplest ways to reach a large audience in a short amount of time. Think beyond the pedestrian and auto traffic that passes your storefront daily. Envision your banners flying free at trade shows, sales meetings, conventions, conferences, sporting events, and school campuses.
Choosing the right exterior banner type is just as important as choosing the right message and location. Luckily, there is a wide variety of banner material to fit every budget and need. We've highlighted below our five favorites for their durability, versatility, and mobility.
1.    VINLY BANNERS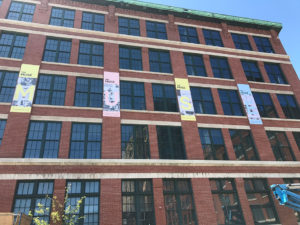 Vinyl is a standard material used for exterior building banners announcing a business that is "Coming Soon" or "Now Open." Because they are relatively inexpensive to produce, they are perfect for transitional signage, special events, and temporary signage.
Vinyl banners are often digitally printed on a large-format printer so they can be made on a single piece of material. This contributes to their durability. Another benefit of vinyl banners is that they can be printed on both sides, so you get more bang for your buck.
At Avanti, we've made hundreds of banners for Global Partners, a northeast convenience store and gas station retailer. Contact us to take your banner game to the next level.
2.    MESH BANNERS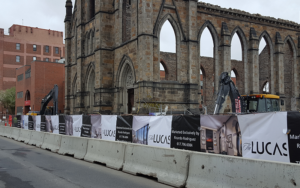 If you've ever noticed the exterior banners that surround commercial construction sites, these are prime examples of mesh banners. Often hung from scaffolding or chain-link fencing, they allow air to pass through so your banner doesn't act as a sail and take your fence on a voyage across town.
Mesh banners are also perfect for outdoor events such as concerts and festivals as they allow light and sound to pass through. While often more expensive than their vinyl counterpart, mesh banners are designed to withstand the elements. This makes them the perfect if you want to keep your banners around a while.
Our clients at One Dalton used a variety of mesh banners when building their 61-story residential tower in Boston's Back Bay. With their banners they were able to communicate to the surrounding community who they were and what was to come.
3.    SELF-ADHESIVE VINYL BANNERS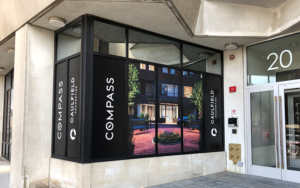 As the name suggests, self-adhesive vinyl banners are 100% removable and a great way to make a big impact on your storefront. Made of a thin vinyl material, self-adhesive banners are flexible and versatile. They can withstand high temperatures and are water resistance, making them ideal for storefronts that are exposed to the elements. Best of all, they are cost effective which makes them the perfect compliment to any multi-part marketing campaign.
Check out the stunning photography used in this Compass Real Estate storefront. Makes you want to call that place home, doesn't it?
4.    WINDOW PERF VINLY BANNERS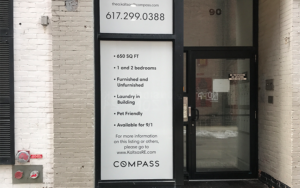 Window perf banners, sometimes referred to as see-through vinyl or one-way vision film, are perforated with a pattern of round evenly spaced holes. These holes allow light to pass through from the outside, but partially obscures the view from the outside while those inside can still see out.
Window perf banners are commonly used in vehicle windows, retail storefront displays, and office glass. This is one of our favorite materials for its durability and functionality. One note of caution: this banner option is not great for small font-type as the small holes make readability difficult.
5.    DIBOND BANNERS/SIGNS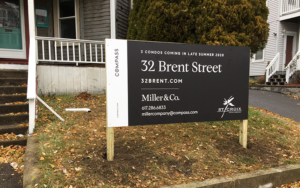 Not much thicker than a quarter, dibond signs are composed of a foam core sandwiched between two pieces of aluminum making them extremely durable and lightweight. They are also extremely versatile because they can be cut, curved, or bent into any shape. Contact us to order your dibond sign today!
No matter which banner type you choose, remember to keep your colors bold, your letters big, and your messages and calls to action clear. If you're ever unsure or could use some expert advice, give us a call.