All Signs Point To Success
Global Partners is one of the largest independent owners, suppliers, and operators of gasoline stations and convenience stores in the Northeast. An acquisition of Alliance Energy in 2012 — and steady growth since– brings the conglomerate's portfolio of gas stations to more than 1,500 which includes brands such as Mobil, Exxon, Shell, Sunoco, Gulf, CITGO, and Global.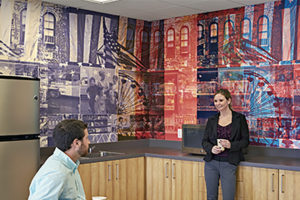 Avanti's relationship with Global Partners began in 2012. Now one of Avanti's largest clients, Avanti provides promotional signage to each of Global's independently branded gas stations throughout Connecticut, Maine, Massachusetts, New Hampshire, New Jersey, New York, Pennsylvania, Rhode Island, and Vermont. Over the last three years, the amount of materials and products included in the point-of-purchase (POP) kit has more than doubled as Avanti helps Global find new options to improve the quality of materials developed.
The scope of work Avanti provides to Global includes:
Growing the number of stores receiving consistent, branded POP programs from 30 to 300 stores
Production and print of more than 30,000 pieces of promotional point-of-purchase signage every-other-month
Sorting of promotional material for delivery to approximately 300 individual stores, each requiring a custom package based on the availability of items in that store
Packing and shipping of promotional items
"Our biggest challenge with any new client is anticipating potential issues,"says Andy McClellan, Avanti senior designer and project manager. For Global, we work directly with the marketing team to help identify potential issues and provide continuous feedback to help streamline the production and kitting process in order to improve efficiency and increase capacity.
With each round of promotional material that is developed and delivered, Avanti's managers and designers test a sample of the promotional products to ensure they stick, stay flat, won't bend, roll, or, crumple. Additional quality control ensures that Global receives the best price, best quality, and on-time delivery.
At the end of 2018, Avanti had delivered nearly a quarter million promotional pieces to Global Partners. Whether your business is large or small, the dedicated team at Avanti will exceed your expectations.
"I have been working with the Avanti team for over four years. In that time, they have impressed me on every project. They deliver on time, and with great execution; which allows us to grow our business at a rapid pace!"
Denys Milan
Director, Category Management & Merchandising, Global Partners